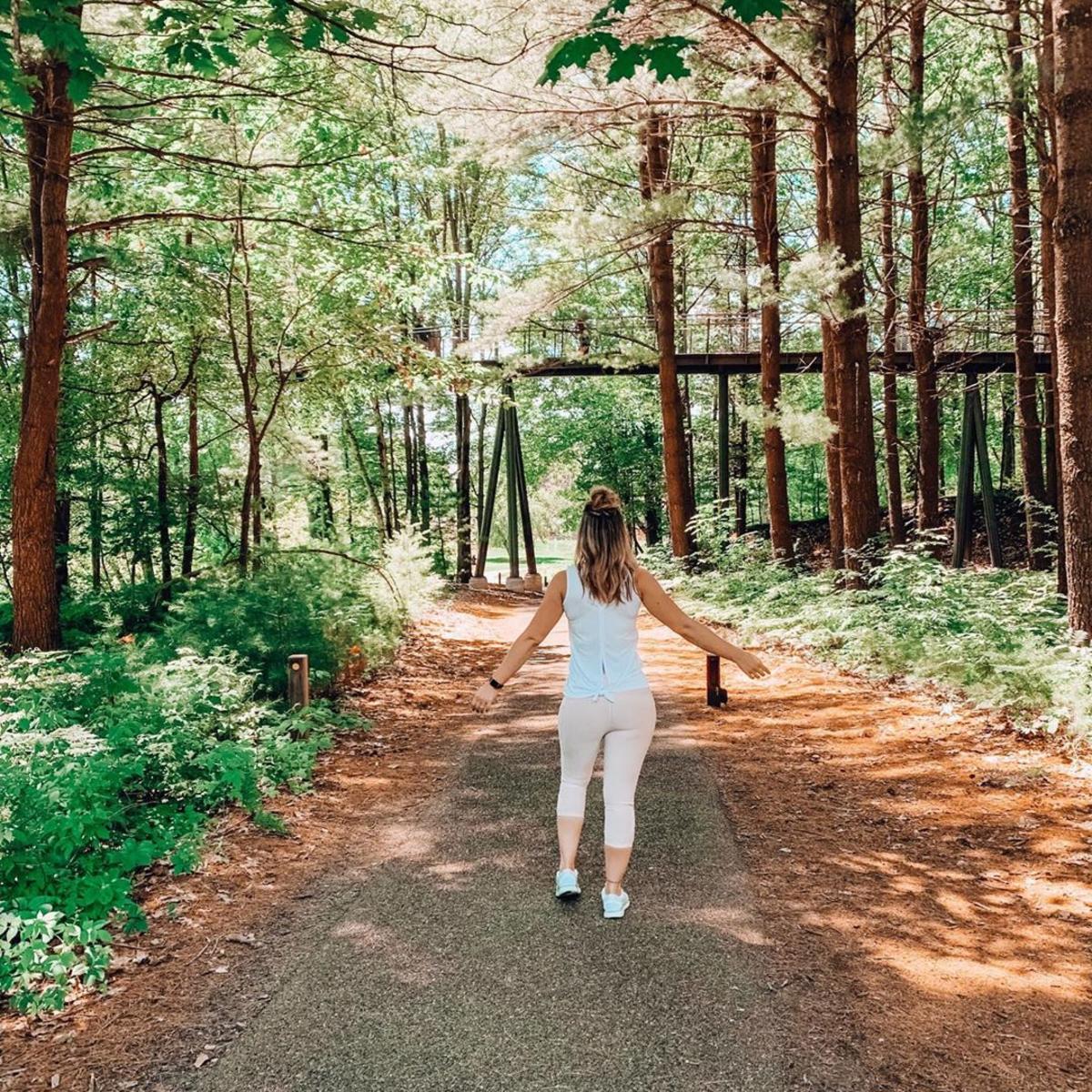 📍Whiting Forest of Dow Gardens 📷 @mrsbrookebeyer
---
"Take a hike!" was once a phrase used to send someone on their way. Today, in the Great Lakes Bay Region, it's a friendly invitation. More accurately, it's lots of invitations, for the region abounds in pathways and trails — paved and unpaved, rural and urban, for users on foot, on skates, on bikes and sometimes, even on horseback.
---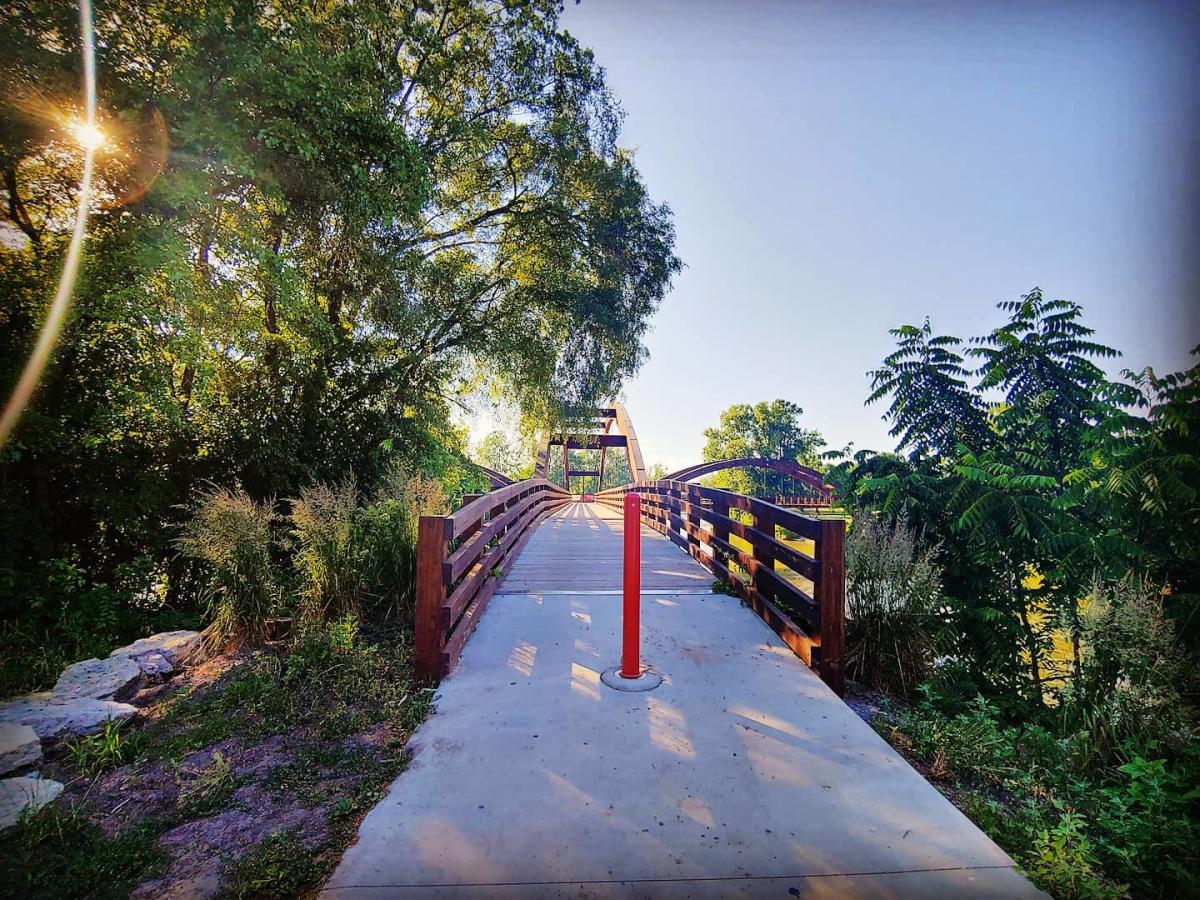 📍The Tridge 📷 @megsymarie13
A Watershed View
There are a few stand-alone trails in this region, but many (and more each year) are connected. Think of trails like streams and rivers within a watershed, smaller components connected to ever-larger ones.
The Great Lakes Bay Regional Trail comprises or connects to several area trails and is, in turn, part of the DNR-designated Iron Belle Trail — the longest designated state trail in the nation — which stretches from Iron Mountain in the western Upper Peninsula to Belle Isle in southeastern Lower Michigan.
The Great Lakes Bay Regional Trail comprises nearly 100 miles of paved, non-motorized Michigan trails, including the Pere Marquette Rail Trail, the Saginaw Valley Rail Trail, and the Bay City Area Riverwalk/Railtrail — with even more network trails and connectors planned!
Best Trails in Midland, MI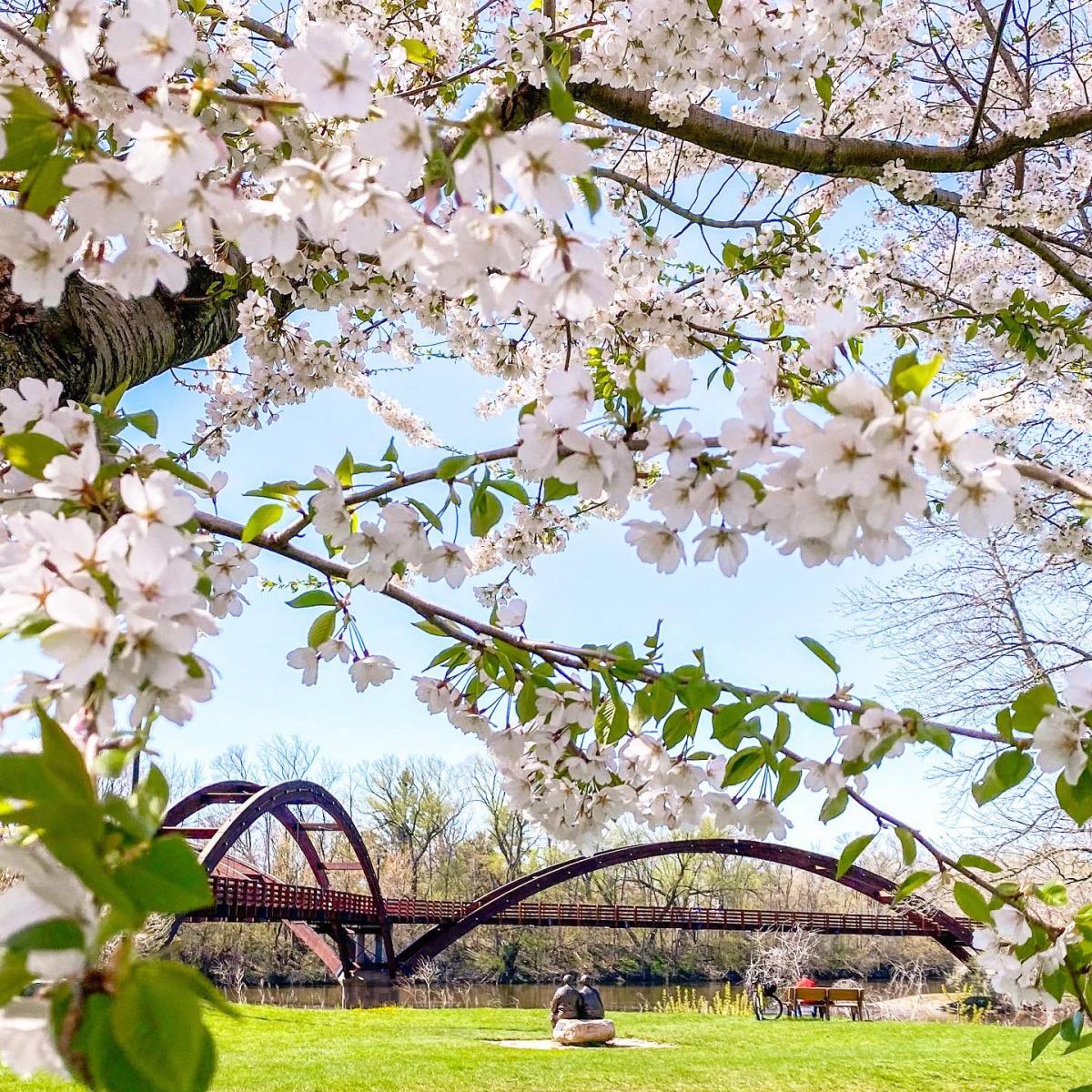 📍The Tridge 📷 @mekilouise
The Grand Curve Trail stretches 4.25 paved miles from The Tridge in Downtown Midland (crossing the Tittabawassee and Chippewa Rivers and the hub of several trails), to Patrick/Illinois streets. It's a delightful place to hike or bike, and dogs are welcome on this pet-friendly Michigan trail.
From the distinctive, three-legged Tridge, a relatively new, paved Chippewa Trail leads four miles to Chippewa Nature Center (more on its trails below — see how they all seem connected?).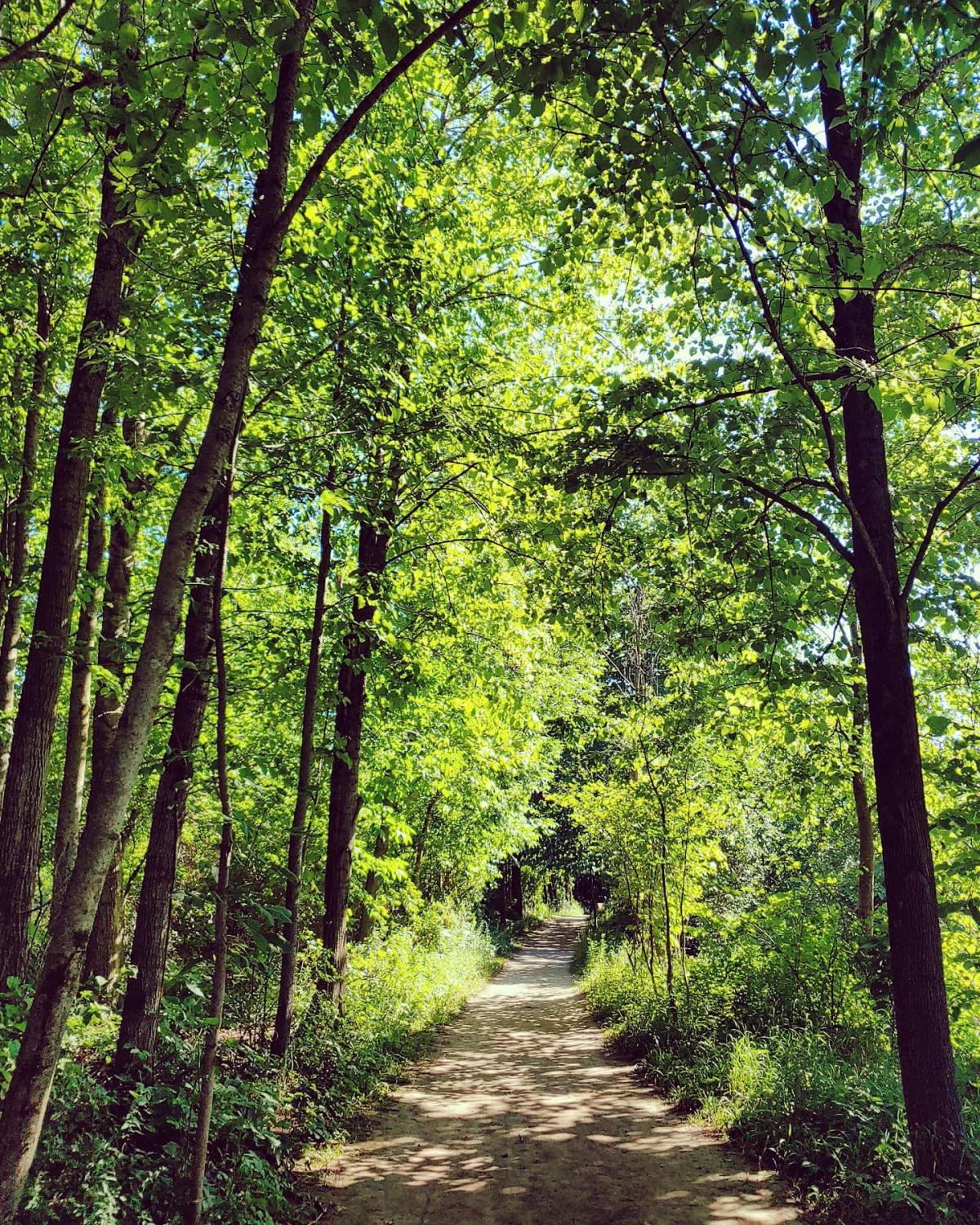 📍Chippewa Nature Center 📷 @megsymarie13
And then there's what is arguably the granddaddy of the region's trails: the Pere-Marquette Rail Trail, whose paved portion begins at the Tridge and stretches 30 miles to Clare (from which a similarly named Pere-Marquette State Trail continues westward to Baldwin). It's a favorite of folks on foot, skates, and bikes.
Chippewa Nature Center has a bountiful network of 19 miles of foot trails traversing its variety of ecosystems — wetland woodlot, prairie and more — and interpreted clearly in maps, pamphlets, and signage.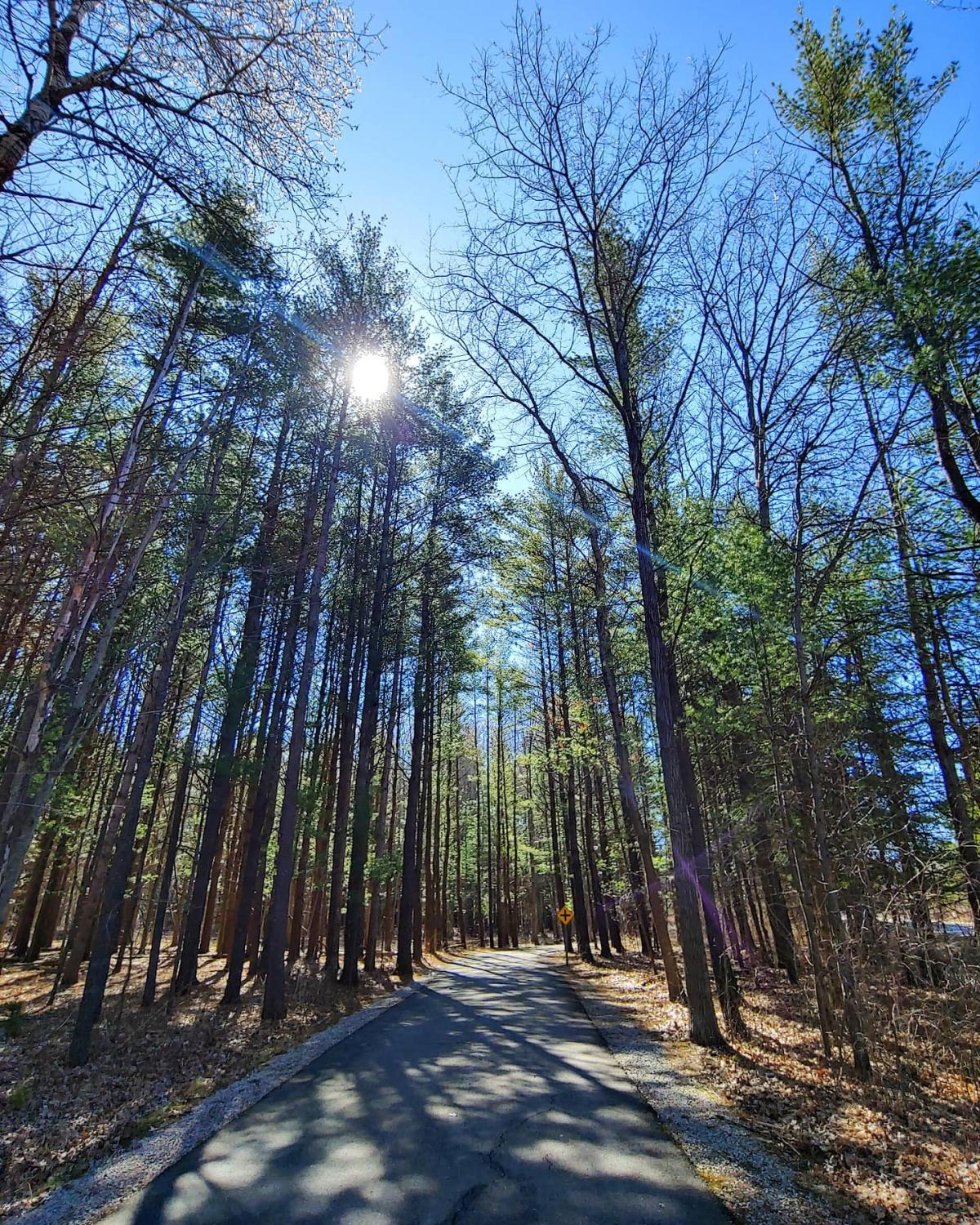 📍Chippewa Nature Center 📷 @megsymarie13
Midland's City Forest has two trail systems, one for mountain biking and one for hiking (and skiing in season). Study the map so you stay on the correct one — they do intertwine. The cross-country ski trails become horse trails in spring, summer, and fall.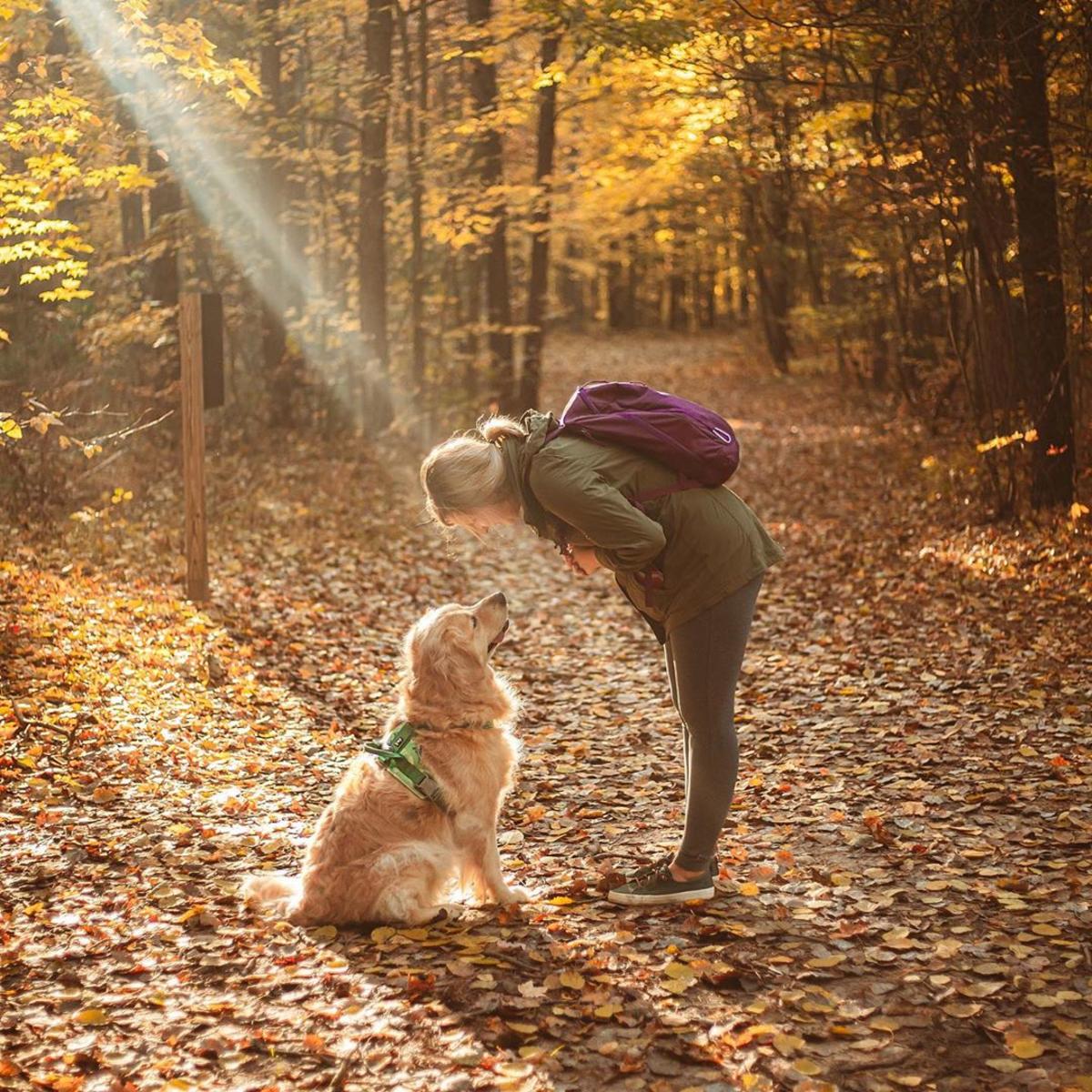 📍Midland City Forest 📷 @wildgoldens
Midland County Parks and Recreation operates the Pine Haven Recreational Area, under a permit from the Michigan DNR (it's also open to hunting in season). Its hills, ridges, and gullies are unusual in this generally flat region; first built as a cross-country ski area, its ski-based difficulty-ranking signs are good indicators of what kind of hike or bike experience awaits you.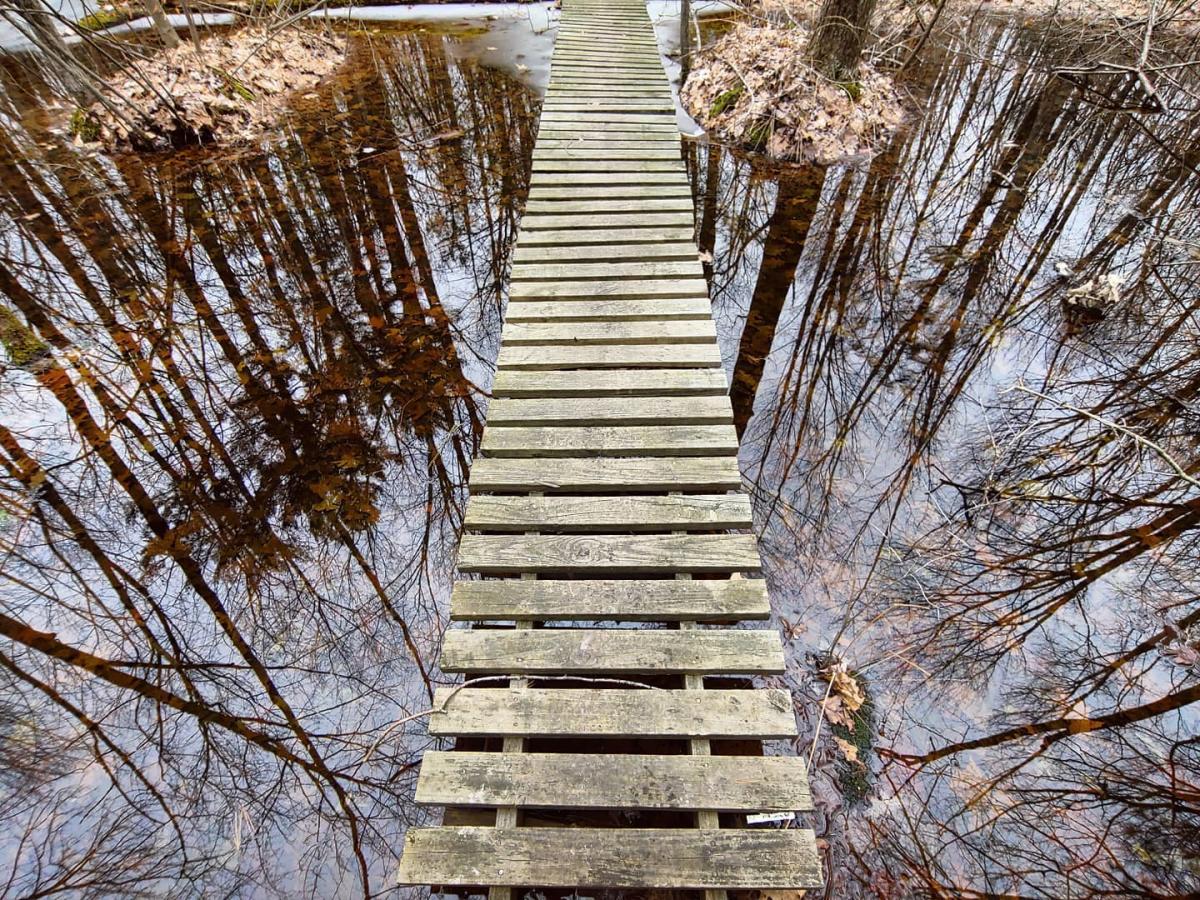 📍Pine Haven Recreation Area 📷 @megsymarie13
Really want to get away from it all? Lace 'em up and hit the Midland-to-Mackinaw Hiking Trail, which begins within the Kawkawlin Flooding Wildlife Area in northern Midland County and traces a Native American trade route more than 210 miles to Mackinaw City at the tip of the Lower Peninsula. Much of this is the dirt, single-track trail befitting its attendants, the Boy Scouts of America.
Within Midland's Dow Gardens is the 54-acre, native northern-pine Whiting Forest of Dow Gardens, with more than one mile of footpaths and a new visitor twist: a 1,400-foot Canopy Walk that stands the nation's longest.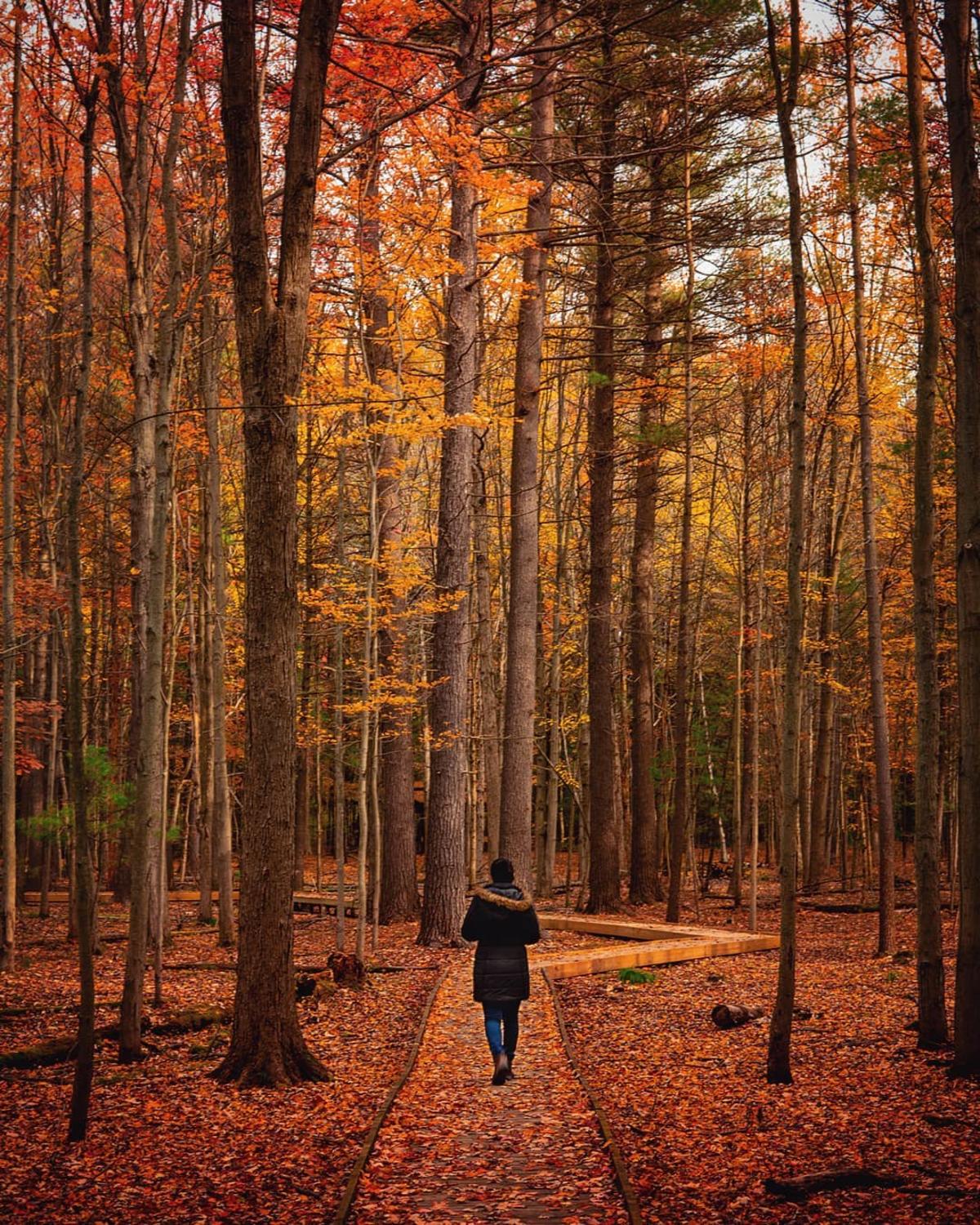 📍Whiting Forest of Dow Gardens 📷 @_dineshdon_
The Whiting Forest of Dow Gardens Canopy Walk's features are many and varied. As high as 40 feet above hilly terrain unusual for this area, in one spot, a glass floor section overlooks a new orchard; in another, cargo nets offer a novel experience aloft; elsewhere a pond overlook encourages reflection.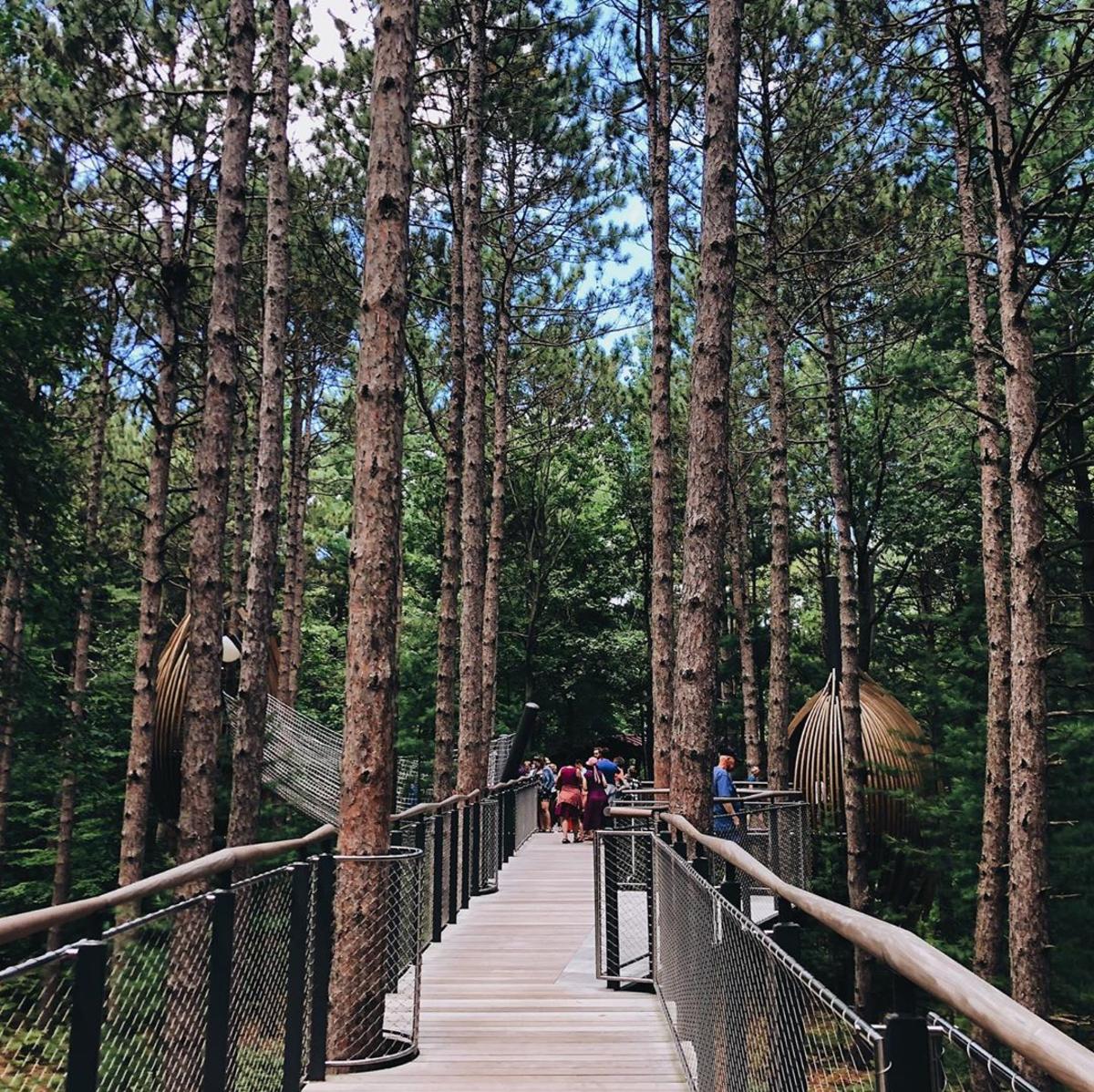 📍Whiting Forest of Dow Gardens 📷 @schoolnest
Best Trails in Saginaw, MI
When hiking trails in Saginaw County, you can begin with the Saginaw Valley Rail Trail, which stretches from Saginaw to St. Charles. Along the way, it offers a variety of pleasant settings, from the wildlife and waterfowl-rich Shiawassee National Wildlife Refuge and adjacent Shiawassee River State Game Area, through woodlots, farms, and fields.
Typical of trails with railway origins, its level surface is friendly to bikers and strollers (for eight miles an equestrian trail parallels the hiking trail). Trees provide shade in summer, color in fall. A 'tributary' is the 2.3-mile Thomas Township Trail; the main rail trail itself features trailheads (with restrooms and provisions), a fishing platform, and even pocket parks.
The Shiawassee National Wildlife Refuge itself has a pair of 4.5-mile-long nature trails. One of them, the Woodland Trail, begins near the starting point of the Saginaw Valley Rail Trail.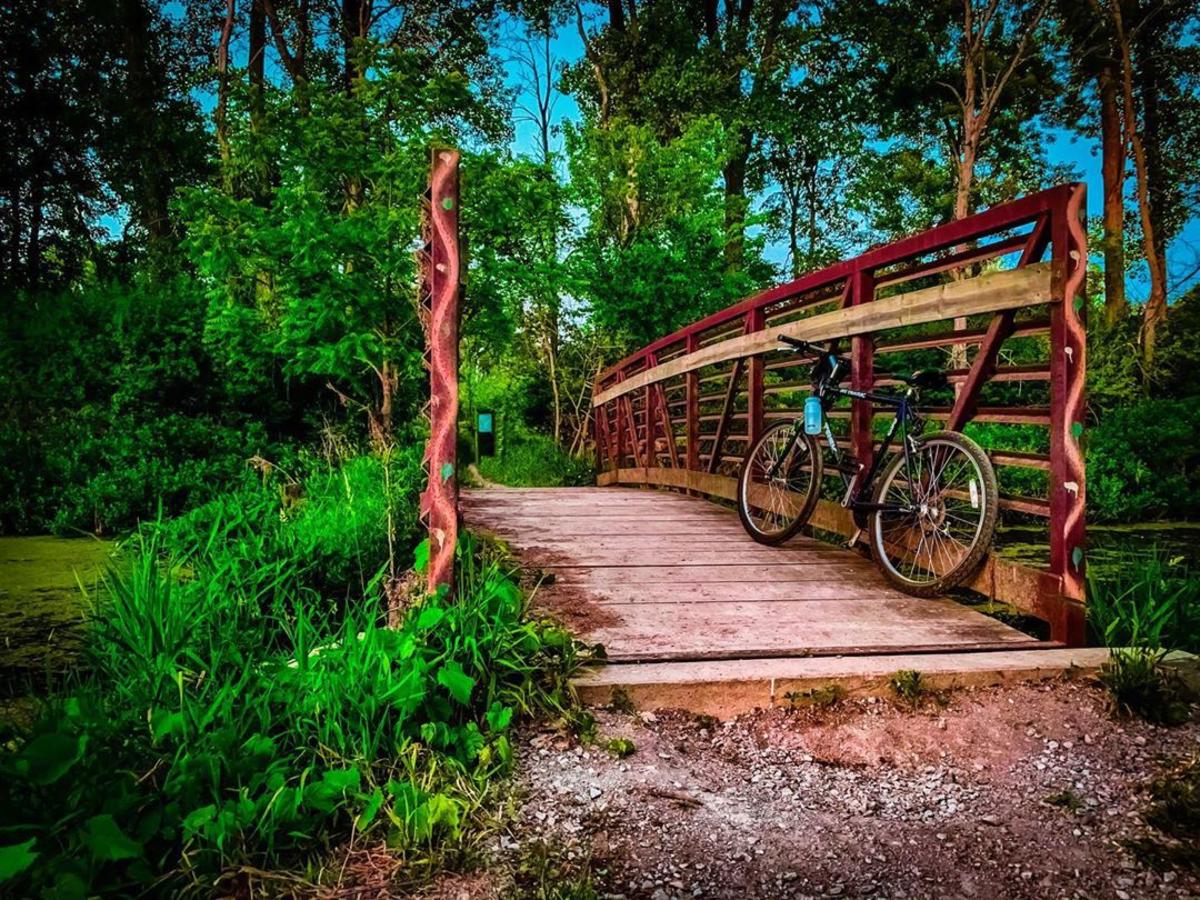 📍Shiawassee National Wildlife Refuge 📷 @lonbon22
I'm partial, though, to the Ferguson Bayou Trail at the end of Curtis Road in Saginaw. It's from there that I hiked one memorable day with my dad and my young daughter. I have a black and white photo on my wall capturing their exchange as Elizabeth enlightened Grandpa on the fact that what he called Queen Anne's Lace was in fact actually wild carrot. It was a lovely day, made possible by the trail.
Best Trails in Bay City, MI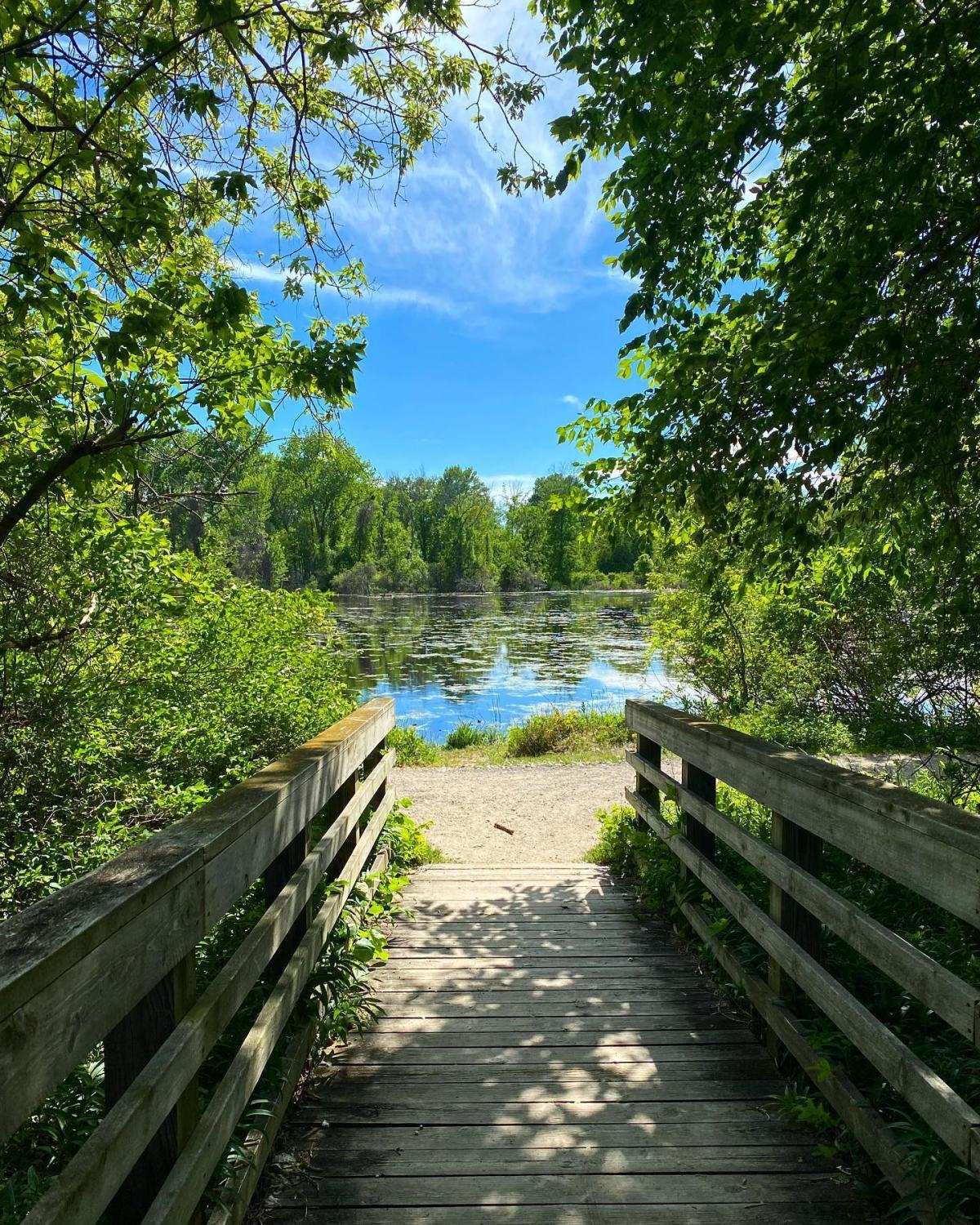 📍Bay City State Park 📷 @travelingmichigan
The Bay City Area Riverwalk/Railtrail is a 7.7-mile-long rail corridor linking Bay City State Park to Downtown Bay City, where a 9.8-mile Bay City Riverwalk/RailTrail Loop visits the Saginaw River and explores the town, taking you past marinas, restaurants, parks, gardens, logging-era homes and more.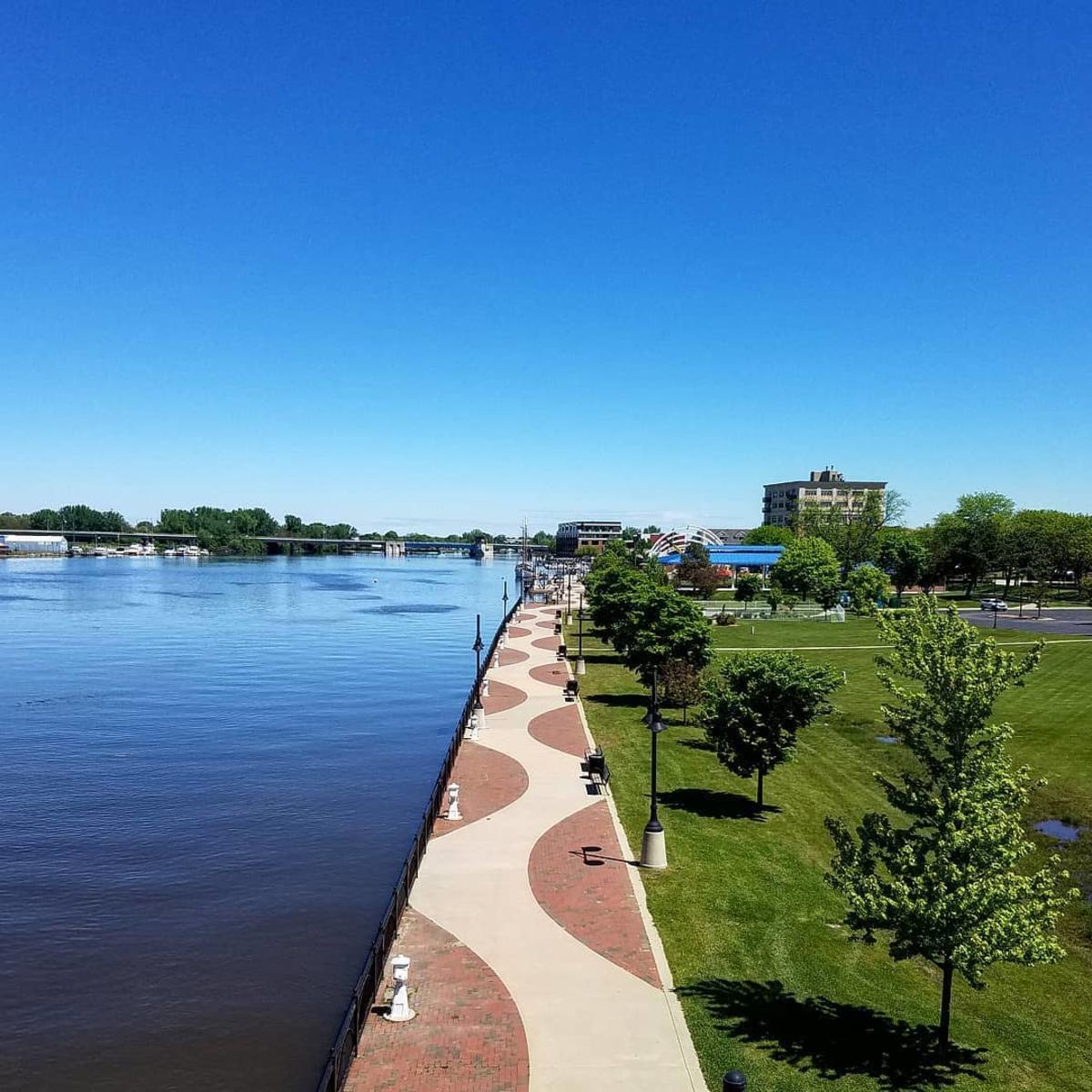 📍Bay City Area Riverwalk/RailTrail 📷 @james_victor_sczomak
Bay City State Park, noted as one of "The 20 Best Michigan State Parks", boasts three nature trails. The 3.3-mile-long Tobico Marsh Trail has a pair of observation towers providing overlooks of one of the largest remaining Great Lakes coastal wetlands. The Anderson Nature Trail wanders through a small restored tallgrass prairie.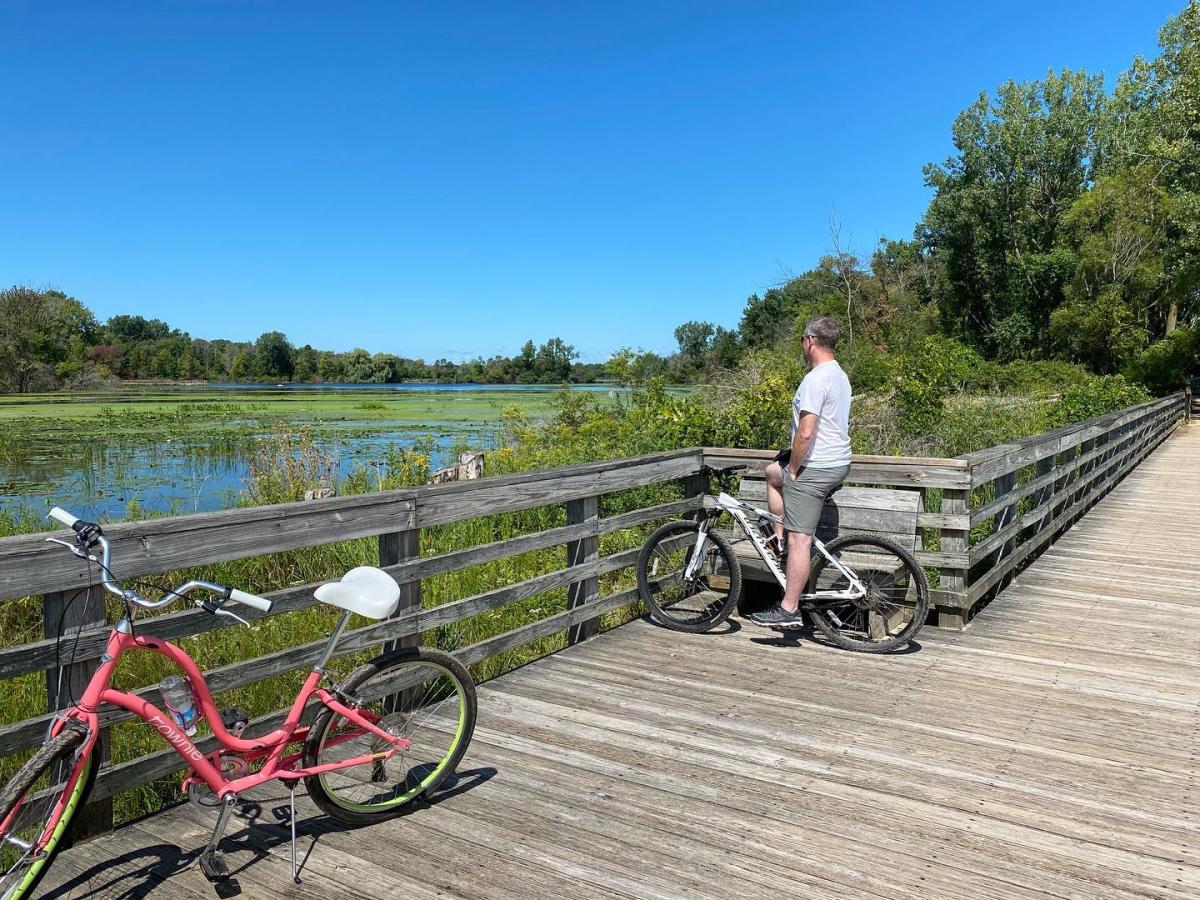 📍Tobico Marsh at Bay City State Park 📷 @travelingmichigan
More Trail Tips
Trails are definitely a growing phenomenon in this region, communities rediscovering, redeveloping, resurfacing and rededicating trails and pathways. it all aims at one more, healthy and enjoyable 'r' — recreation in Michigan.
Before you go, search for the latest maps and trail conditions (and the latest rules — some are dog-friendly, others dog-free; some open to wheels, others not; and trail-planners are wrestling with the arrival of new, electric-motor-assisted bicycles. If in doubt, contact the local trail-tending authority and get the latest.)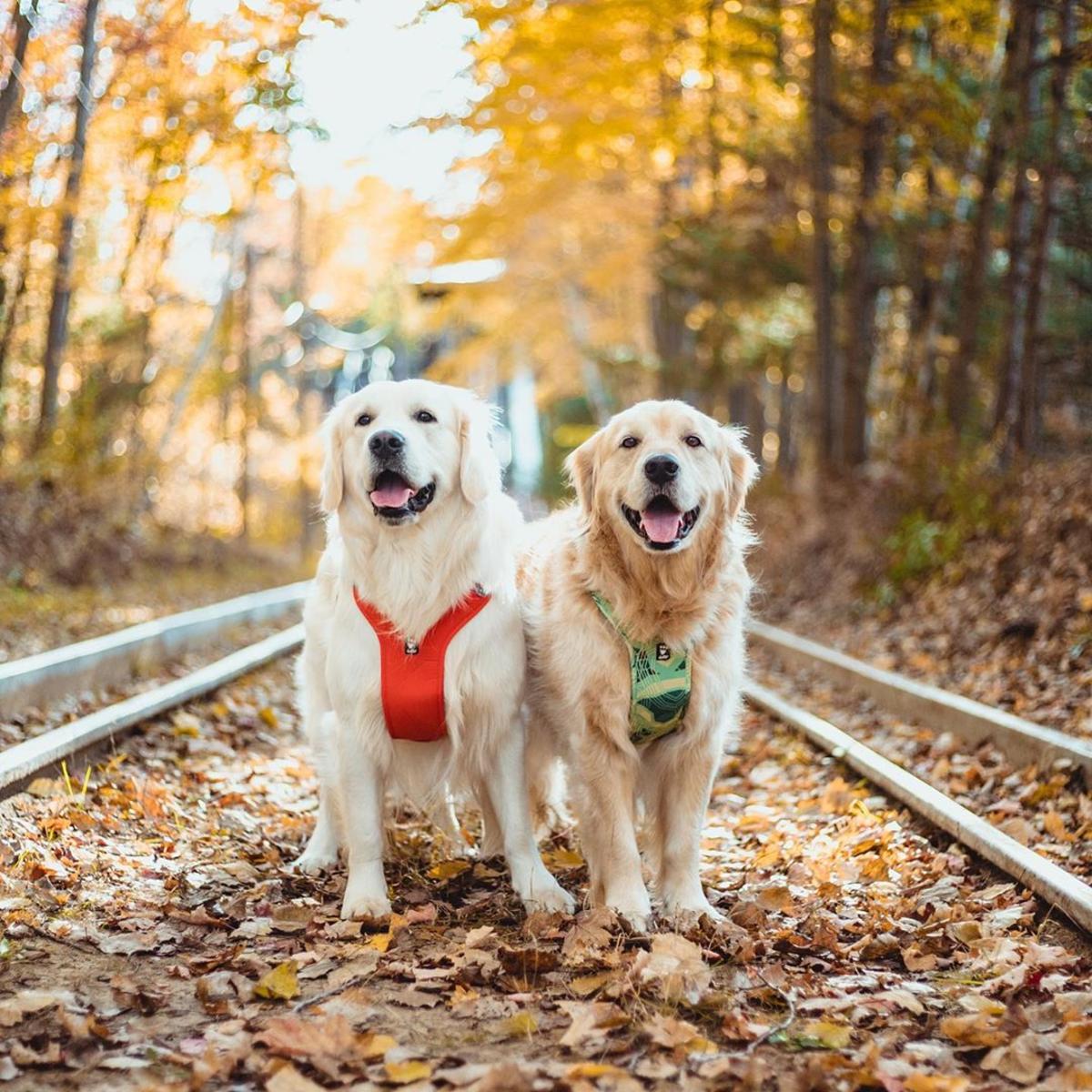 📍Midland City Forest 📷 @wildgoldens
Hit the Trails
When you're in the Great Lakes Bay Region, with its cities, villages, forests and farmlands, its abundant wildlife and delightfully interwoven trails, you'll hear in your mind advice that's not the least bit unfriendly: "Take a hike!"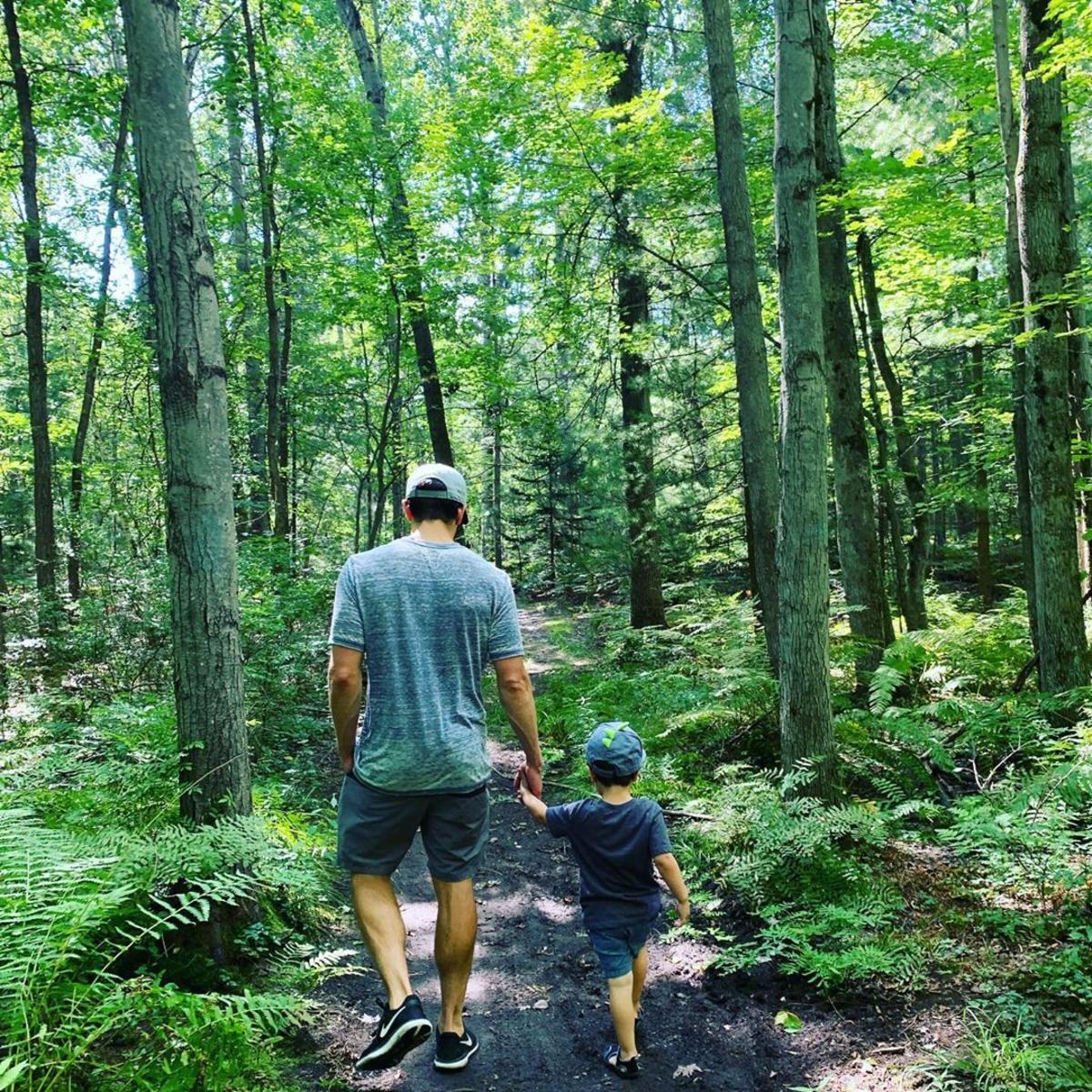 📍Midland City Forest 📷 @brusk1ak